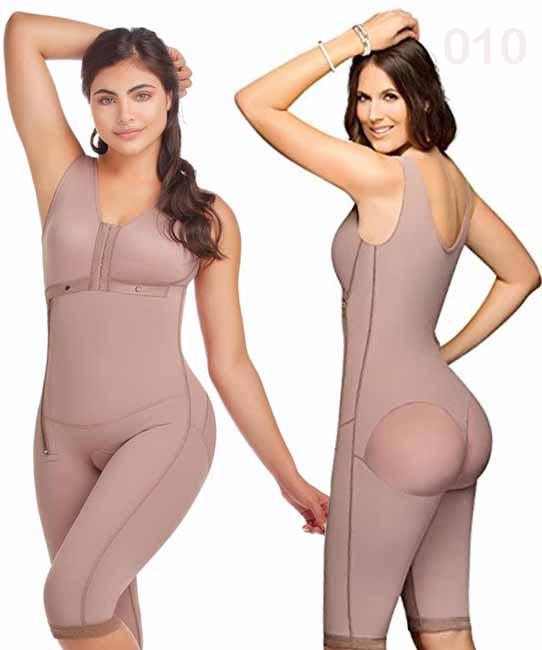 DELIE by D'PRADA Ref. 11010
The girdles with Bra, design allows a comfortable recovery after surgical procedures, has a fabric material that exerts pressure where inflammation occurs more, inside fabric has a soft structure that provides comfort and freshness. Allows a better patient recovery, helping skin to re-attach to the muscular tissue, reduces significantly the liquid retentions, pain and flaccidity and offer more mobility and safety's patient. The girdles are design especially for cosmetic surgery, several references, sizes and especial measures are made. COLOR: Cocoa
Ref. 11010
Description:
This post surgery body-shaper girdle w/bra will keep you comfortable and at the same time will make you look good since it is barely noticeable under your clothing. The post surgery body-shaper can be used after a liposuction or as a compression garment after a tummy tuck to help during the recovery process. This body-shaper has been manufactured with the best materials including powernet so you can feel smooth when wearing it, as a second skin. The powernet used in this post surgery girdle provides you with the right compression for your body to be at ease at all times. Zipper lateral closure used in this post surgery. For being a high compression garment, the size will vary from regular clothing. If you are between sizes, please size up.
Characteristics:
Lateral zipper
The most comfortable girdle available. Obtain the silhouette you've always wanted.
Can be used either as daily use or after giving birth. Can be worn under your wedding gown, day and night dresses.
Has a perfect design that looks great under your favorite outfits.
Comes with flat seams not visible under clothing
Lipo-Reduction girdle
Contains silicone lacing that sticks to the skin
Designed to allow maximum adjustment
Bra included
Booty lifting and shaping
Leg and thigh compression
RETAIL PRICE: $152.00
YOUR SAVING: $20.00